Open Health Co-founder and development lead Tristan Penman provides an update on how the development of the Open Health platform is progressing, and how his team Ahnaf Shahriar Abir and Francisco Di Persia has been managing working from home during lockdown.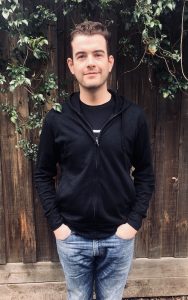 Tristan Penman
Q. What has the team achieved since the last update in March 2020?
Tristan: A lot of the work we did at the beginning of 2020 was to lay the foundations for the Open Health platform. This included basic functionality that you would expect from any online service. Since then, we've been able to build on that, to add a lot of the features that will make Open Health unique.
Q. Why are those features important?
Tristan: Key to making Open Health successful as a means for lifestyle change is that we maintain user engagement while using the information that participants share with us to refine the program over time. What we're building now is intended to make the Open Health beta as effective as possible.
Q. What has it been like working during COVID-19 and lockdown? What challenges has the team faced?
Tristan: Our team was already working in a partially remote capacity, so the transition has been relatively easy for us. The tools that we use (Slack for comms, GitHub for code reviews) have worked really well for us. And like many teams out there, we've adopted Zoom 😊
Open Health Founder Stephen Penman meeting virtually with
Francisco and Ahnaf to discuss the development
Q. What will the team be focusing on next?
Tristan: Now that we've started building some of the basic features that are unique to Open Health, we really need to focus on features that will encourage user engagement. These include notifications driven by user behaviour (to keep participants on track) and social aspects of the program.
Q. Is there anything else you'd like to share?
Tristan: We've been very lucky that COVID-19 and multiple lockdowns have had a very small impact on our team. This is something that we don't take for granted. If anything, it has inspired us to work harder than ever, with health being such a prominent topic in public discourse right now.
Tristan, Ahnaf & Francisco share their best COVID-19 lockdown projects
Tristan: Personally, I have a couple of rather esoteric side projects/areas of interests – I have been studying cryptography and logic circuit design.
Ahnaf: At the beginning of this pandemic, there were a lot of technology companies who offered full access to their learning platform. Taking advantage of that, I had achieved an Oracle Cloud Certification and completed AWS Solution Architect course on Udemy by Stephane Maarek. Furthermore, I also passed for a National Accreditation Authority for Translators and Interpreters (known as NAATI) exam which gives me 5 more points for applying for Australian Permanent Residency. However, I recently got a digital keyboard which I have been learning for the last couple of weeks and have been loving it. Now I can play around 11 different chords and some of my favourite songs.
Francisco: I started learning Italian, then quit it, bought a car, moved to a farm in a remote area, and started to learn some basic mechanical things, for instance servicing the car, replacing driving belts, adjusting windows gaskets, fixing the leaking radiator and how to fix the air conditioner, this latter, has not been finished yet!